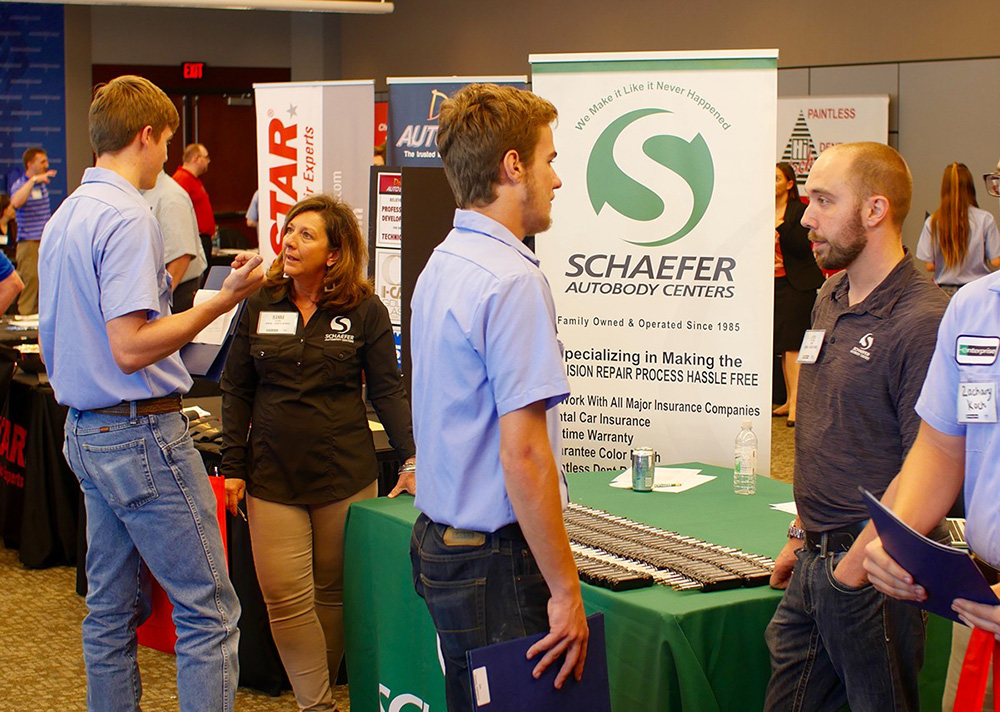 At Schaefer Autobody, we're always looking for ways to be a leader in our industry. We recently sponsored a career fair at Enterprise Holdings as a way to help facilitate the growth of young, talented repair technicians and spread the word about the great career opportunities available in our field.
A career in the auto body and collision repair industry can be incredibly rewarding. For those people with a passionate interest in cars, or those who enjoy applying skills they've learned working with their hands or other mechanics skills, an auto body shop is a place they can build a long-lasting career with numerous benefits.
BENEFITS
Trades such as becoming a repair technician are stable and in fact, in many places they're growing. The need for auto body repair technicians is consistently on the rise year after year. And while there may be a common misconception that these trades might not pay so well, all evidence is to the contrary. According to industry leader I-CAR, auto body shop repair technicians earn on average roughly $50,000 per year and in some cases even higher. As our own Scott Schaefer has said "For those who have the drive, they can make as much money as they want."
CAREER DIVERSITY
Your career in the auto body repair industry doesn't have to stop at repair technician. With years of experience, many technicians find themselves making the transition into management positions using their in-depth knowledge of the auto body repair process in new ways. These types of positions can be very rewarding as well for those who enjoy working with customers and business operations more directly.
You might be asking yourself is, "How do I become an auto body repair technician in St. Louis?"
EDUCATION
Earning a technical education from the variety of trusted schools that offer them is a great place to start if you are looking toward a career in auto body repair. This helps to give you the solid foundation of knowledge you need to be successful when entering the auto body repair field. You can find programs at various high schools, vocational schools, trade schools and community colleges. Schaefer Autobody works with local schools to get young people interested and informed about the possibilities in the auto body repair industry.
Your education shouldn't stop once you're done with your initial training. It's not just about turning wrenches, there's a lot of computer technology involved. Auto body repair technicians work on cars with rapidly changing technology and their training should be ongoing to allow them to keep up-to-date on the technological advances in their field. A great auto body shop will require their technicians to stay active in their continuing education and certifications. Schaefer Autobody prides itself on being one of those great auto body shops.
IT'S TIME TO GET STARTED
Schaefer Autobody will be participating in the Gateway Automotive and Collision Career Fair held by the I-CAR St. Louis committee on September 23rd, at Gateway Motorsports Park in Madison, IL. This event is a great opportunity for those people wanting to start their career in the auto body repair field to meet companies looking for their help.
We're always looking for talented people to join the Schaefer Autobody family. If you are a driven and dedicated repair technician with the education and skills, this could be a great place for you to find your next career. We hope to see you there!
Interested in joining the Schaefer Autobody team? Read more on our Careers page.