About Schaefer Autobody Centers
Customer Testimonials
At Schaefer Autobody Centers, our autobody work speaks for itself. Here are our testimonials from valued customers that trusted Schaefer Autobody Centers to repair their vehicle after they were in an accident.
Reviews from the Driver's Seat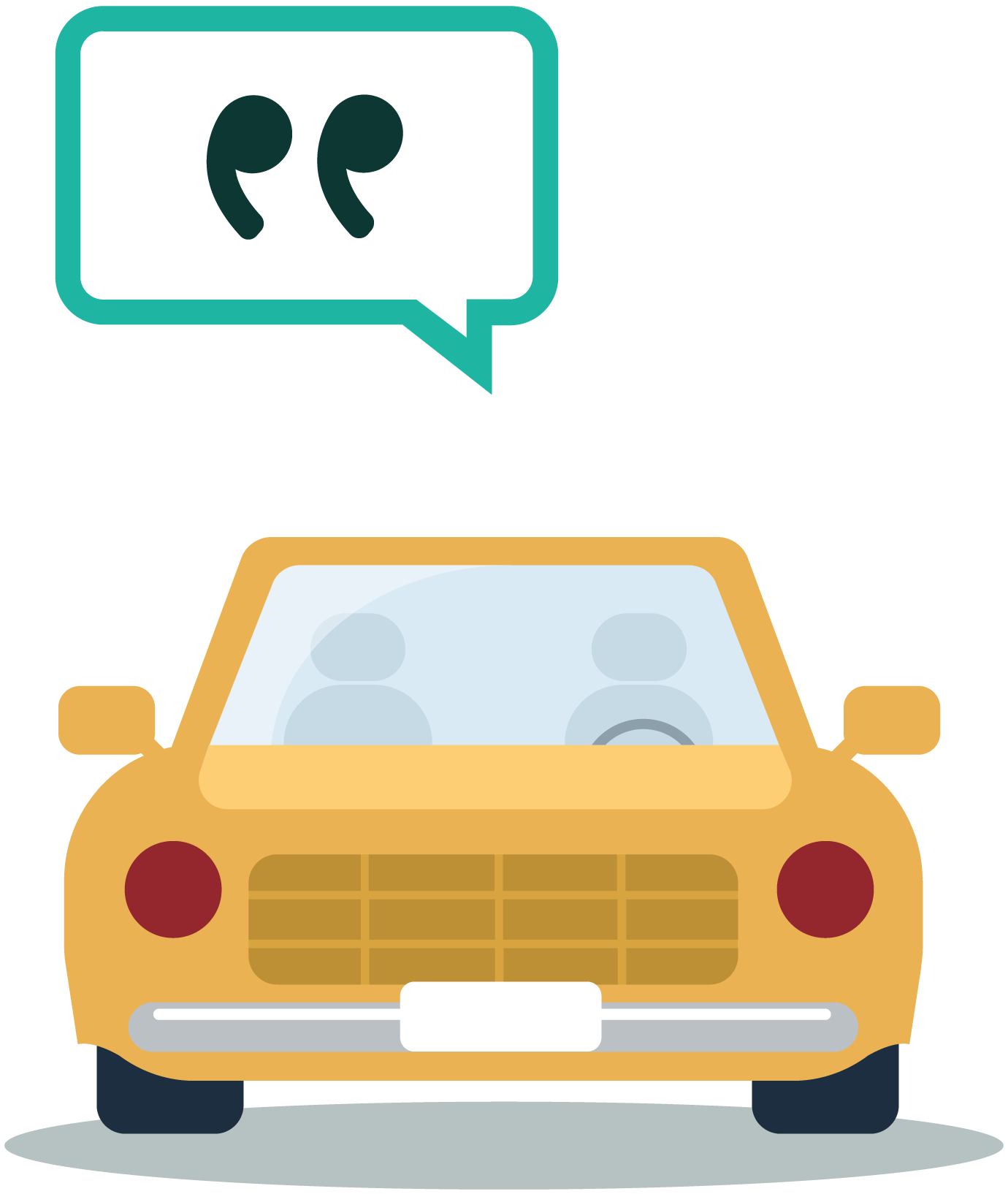 Dear Frank,
I enjoy the show most afternoons on KTRS. Thank you for providing entertainment and a bit of levity in our crazy world. It never fails to lift our spirits to laugh often and well.
I am writing to express my complete satisfaction with Schaefer Auto Body. My vehicle was hit in a parking lot near my home in Ballwin. Naturally, I called Schaefer to make an appointment for an estimate. Long story short, the car was repaired by Schaefer. Returned to me clean and ready to go. I noticed a problem with alignment on the tailgate portion of the repair and discussed it with Shaun, the Manager at the Ellisville location. He arranged for me to drop the vehicle off for alignment and provided a rental car for my use while my vehicle was in the shop. This was in late 2015.
Recently, I noticed that one of my taillights was not working. Upon closer examination, I noticed that there was water in the light. Checking on the Interweb, I discovered that when removing these specific taillights for repair or replacement, a special gasket was to be installed. I called Shaun and relayed the problem.
With no questions asked he ordered a new taillight for me as well as the two missing gaskets. I took the vehicle in this morning and waited for it to be repaired. 45 minutes later I was on my way.
It is not often that Customer Service is done the way I would take care of my customers.
Schaefer is a great vendor. Worthy of a chance to repair anyone's vehicle. Thanks for bringing the word to us listeners.
- Robert F.
(Tesla Model X Repair)...thank you, my husband and I couldn't be happier. We both really had a terrific experience and were so appreciative that you worked us in. The work and service were great, thank you.
- Cary J.
I took my car into Schaefer Auto Body for some minor cosmetic repairs. The contact I had with Brett Billington and Jennifer Taylor was nothing short of excellent, not to mention the repairs to my car. It looks absolutely fantastic, and shows no signs that the car was ever even scratched.
I'm a female and pride myself on keeping my car in tip-top shape. If in the future I have collision repair needs, I'll be taking my car back to Schaefer! They do fantastic work!
Many thanks,
- Renee C.
Everything went amazing. I give it a 10! Thank you for your prompt and courteous service.
- Melissa P.
Hi Frank,
I wanted an opportunity to tell you about my experience with Schaefer. I was driving my almost new car to work through the stop and go construction traffic on I-44 last month. Unfortunately, the young man in the car behind me kept going while traffic had stopped, hitting the back of my car. Fortunately, no one was hurt except my car. Sitting on the side of the road and being A.M. in the P.M. for many years, Schaefer was the first place that came to mind......THEY WERE AMAZING!!! They worked with the "hitters" insurance company who was in a hurry to help me out. Kathy at their Crestwood shop kept us up to date through the whole process. They were the shining stars in a very frustrating situation.
Best of all. ..my new car now is back to new!
Thank you for supporting great companies.
- Dee B.
Dear Frank O'Pinion,
I am an avid listener to your show and feel my day is not complete if I happen to miss it. One facet of your show is the enthusiasm you put into promoting your sponsors. I always wondered if that enthusiasm was real or just marketing. One advertiser in particular is Schaefer Autobody Centers.
Unfortunately, I had need of a body shop and my insurance company suggested Schaefer as one of the options. A ha, I would have a chance to find out if your promos would be backed up by their service.
Schaefer was fantastic with their work and equally fantastic with their customer service. Here is a litany of my experience:
The technical people quickly evaluated the damage gave me an estimate and there was no sitting around waiting.
When I got into my car to leave the battery was dead, so I used their phone to call AAA.
While waiting for AAA I relaxed in their waiting room while drinking all of their Coca Cola I desired.
When AAA arrived they started the car but the battery was bad and the one they carry on their truck would not fit in my car.
The customer service rep for Schaefer heard all of this and offered to call the auto parts store that they use.
She called the parts store, told them the story and ordered a battery, which they delivered and Schaefer actually put it in. All why while waiting I drank some more of their Coca Cola and enjoyed their hospitality.
Shortly, I left for home not believing that such customer service was alive and well in 2016.
Yesterday I returned to pick up the repaired car. Their work was excellent, but again the customer service was just as great.
Their front office customer service rep Jackie Meyer explained to me not only what was done to the car, but why. She clearly explained what was paid for by the insurance company and what was my co-pay, etc. etc. We also had a good time laughing about the dead battery episode, while offering me another Coca Cola. Schaefer has a jewel of an employee and representative.
I know, long story. I am convinced that your enthusiastic sponsor support is not, in any way, just BS.
Just thought you would like to know.
Regards,
Mike B - Kirkwood, MO
- Mike B.
Had my 2010 Toyota Corolla fixed at the O'Fallon MO location and couldn't have been happier! My car was hit when it was parked on the front fender and bumper. After it was fixed I couldn't tell it was ever hit. They took care of getting me a rental and all of the insurance paperwork. Will for sure use them again!
- Darin G
I hope this finds you well. I'm writing this afternoon to commend the efforts of your staff. I recently had my vehicle repaired at Schaefer and, as with my prior experiences there, the staff at your O'Fallon, MO location were helpful, responsive and friendly. There were a number of inconveniences involved in the claim and repair process (none of them arising from Schaefer's handling of the claim or the repairs), but you guys ultimately did what was right by me and did so without consternation. Krista and Kimberly were a joy to work with and, while I hope to not need your services again, when I do I will undoubtedly turn to Schaefer again.
Thank you, and your staff.
- Roger S.
To be honest emailing a company to tell them about their customer service is not my thing, but what transpired today is definitely worthy of the time it takes to type.
It all started about 24 hours ago……driving down the highway and BANG!!!!!!! A rock jumped up and smacked against my car's brand spankin' new bumper. I pulled over and noticed a pencil eraser sized chunk missing and the metal was exposed. I drove immediately to the dealership to get some touch up paint and straight home to do the patch work.
When I got in the garage, I started applying the paint, and 30 minutes later, I was happy and off to bed. The story doesn't end there. Upon waking up, I ran outside to check out my hard work and was shocked to see my painting was far from Da Vinci. I panicked and drove up to a neighborhood body shop and asked if they could smooth it out. The gentleman told me he would need to paint the whole bumper. I was a little skeptical, so I moved on.
Fast forward to lunch time, when I called Schaefer Autobody and was greeted on the phone by Maria and she couldn't have been more helpful. With the sweetest voice imaginable told me she would get me answers and asked if I would like to schedule a time for an estimate. I let her know how much she helped me and told her I would stop up at the Dunn Rd location at lunch.
Once I arrived at the Dunn Rd location, I stepped in and was immediately greeted by Brittany, I explained my situation and she was out the door and looking at my car in no time. After she assessed the damage she grabbed Brendan and he wet sanded the tiny spot, buffed and just like that my car looked brand new again.
I was floored with Maria, Brittany, and Brendan. Schaefer Autobody has gained myself and the countless number of people I will tell as new customers for life. Customer service goes a long way and you are the leaders in this department by far. Be proud and keep up the great work!
Best Regards,
Adam S.
New Lifelong Customer
- Adam S.
I want to let you know about the excellent customer service I was given when I brought my car in for some body work last week. My 2015 Camry had just under 7,000 miles on it when I came upon a large boulder in the middle of Highway 141. I couldn't get around it as there was a car in the next lane. I had to run right into it. The car was drivable,  so I took it to your Fenton location on the off chance I might be able to get an estimate. The lady who does the estimates had left for the day, but another lady said she wanted to come out and just take a look. There was a piece of splash guard hanging down in front that was about to fall off. She asked one of the techs to come out and take a look to make sure the car was safe to drive. He ended up pulling it into the garage and working on it for a few minutes. Before I'd even committed to using Schaefer, two employees were concerned enough about my safety to check the car over. The next morning I called and cancelled my appointment for an estimate and set up a day to drop off the car. I already knew I didn't want to go anywhere else. The office called me every couple of days to let me know how it was going. (I wish I could remember the lady's name who I was dealing with) When the car was ready to pick up, I was having trouble figuring out a way to get there before the shop closed. They offered to deliver it to my office! When they arrived with the car, it looked beautiful. The young man who delivered the car was very polite and courteous. They did a great job on the repairs and it was cleaner than when I drove it off the lot at the dealership. 
The service I received goes above and beyond what is expected. Schaefer showed concern for my safety, was sympathetic to how upsetting it was to damage my new car, and did a fantastic job on the repairs. 
Thank you
- Sherry H.
Had a very good experience with Schaefer Autobody in O'Fallon, MO! They looked at my car when I dropped in with out an appointment and sent me an estimate within a few hours. It was not a major repair and not going to be covered by insurance so I wasn't quick to make a decision. Kimberly followed up with me…answered all of my many questions and was able to tell me when I could bring it in to limit the amount of time that we would be down to one car. It was done when promised for the amount that I was given on the estimate. The repair looks great, you can't even tell where it was! Thank you for being so easy to deal with and making a situation that I was dreading into 'no big deal'.
- Denise S.
My experience with Schaefer was excellent. Another car backed into me hitting just above my passenger wheel, causing a dent, scratches, etc. I went in for an appraisal, they took pictures, all told about 5 minutes. The appointment date was set a ways out, I guess they are busy. It took about a week for the repair, and they called several times to update me on the process and the "target date" for pickup. All of my interactions with them were fast and easy. They also cleaned the inside and out of my car, including the leather seats (yes!). They handled the insurance company completely, and there were no repairs that weren't covered. When I arrived for pickup, my car was all shiny and clean, I couldn't tell there had been any damage, and it worked just fine. Their initial estimate was very low (about 1/3 the end cost), but they told me upfront that there is almost always additional costs they won't know about until they start working on the car (which I think is fair since the estimate was based on a few exterior pictures). I'm not a car person, so I can't claim to know if they did extra work or overcharged or anything. They are right next to Enterprise, where my rental was through, so that was extremely convenient to just walk over and get my rental. It was far more hassle-free than I had anticipated.
- Valerie S.
Thank you to everyone who worked on my vehicle this past couple weeks! This was my first time working with Schaefer Autobody and I have to say its been an excellent experience, from the day I walked in Erik was a great help. Jennifer and Jackie both have been great about staying in communication with me to make sure I knew what was happening.
The work that was completed, honestly the Jeep looks better today than the day I bought it and it rides great. The service was also completed in reasonably quick form for all the things that were done.
When I picked up the Jeep last night I was incredibly impressed with how clean it was and the attention to detail of all the work and cleanliness. If I ever need anything in the future you bet I will be calling you first. Again a great big thanks to everyone who worked on the Jeep (if you would please let the mechanics and body fellas know, they played a big part of this) and everyone who saw me through the repairs, keep up the great work!
- Ryan F.
I just wanted to say thank you thank you thank you! Anytime a car is involved in a car accident it can be stressful; getting it in the shop, getting a rental, and getting the car back just as it was before the accident. I knew Schaefer Autobody could handle the job. The staff at Schaefer were amazing with communication from start to finish. For my car (my baby) with custom paint and after market halo lights, and LED lighting, ensuring the best quality job was just as important to them as it was me. I am so appreciative of the quality work that was completed on my Challenger. I would most definitely recommend them to friends, family, or anyone in need of quality work for their vehicle. Thank you again for doing such a great job on my baby....I mean my car.
- Kathy W.
I had my Hyundai Santa Fe rehabilitated after hitting a deer by the Schaefer Autobody team. They were able to get the bumper and fender, radiator support and other parts fixed in record timing. Plus they helped me with the insurance company!! It really felt as if I was taken care of there. Big Shout Out to Brett Billington and his team. I even got my car back and fixed for less money than I originally thought it was going to be. Plus they washed and detailed the inside of my car! It felt like I was in a brand new vehicle when they were done!
- Virginia I.
I chose Schaefer because of your sponsorship of the Large Morning Show in the Afternoon.  Frank talks about Schaefer often and always talks about the great service you provide.  He was not kidding.  Everyone I spoke with, every phone call, every interaction in person was great.  Your team is professional and courteous.  You fixed my car quickly (faster than the quote) and the job was done well.  My car looked great when I picked it up today!  Thank you.  I will definitely recommend your services to others.  Keep up the good work!
- Lea Anne B.
I had heard about you from Frank O. Pinion for many years. I was pleasantly surprised with the service and the follow up with Kristen. The repair was done as promised and after the first visit the shop manger thought the trunk seemed to be not right. They contacted the insurance company to see if they would cover the additional repair and all was good. My car was completed and cleaned up excellent. I will recommend Schaefer to all in the future. Thanks again for living up to such a high standard that Frank speaks of regarding Schaefer Autobody Centers.
- Don N.
It was great and everybody I talked to was pleasant. Everybody was upbeat and there was a promise date that, but they found a light and had to replace it, but it was complete the next day, so I have no complaints whatsover. The repairs were just fine. We have heard so much great stuff from Frank Opinion so that was part of why we went to you guys.
- Barb S.
They did it in 24 hrs and they keep me well informed. They were nice and they are my number one pick for autobody repair.
- Gail P.
Click through to see some of our auto body repair work