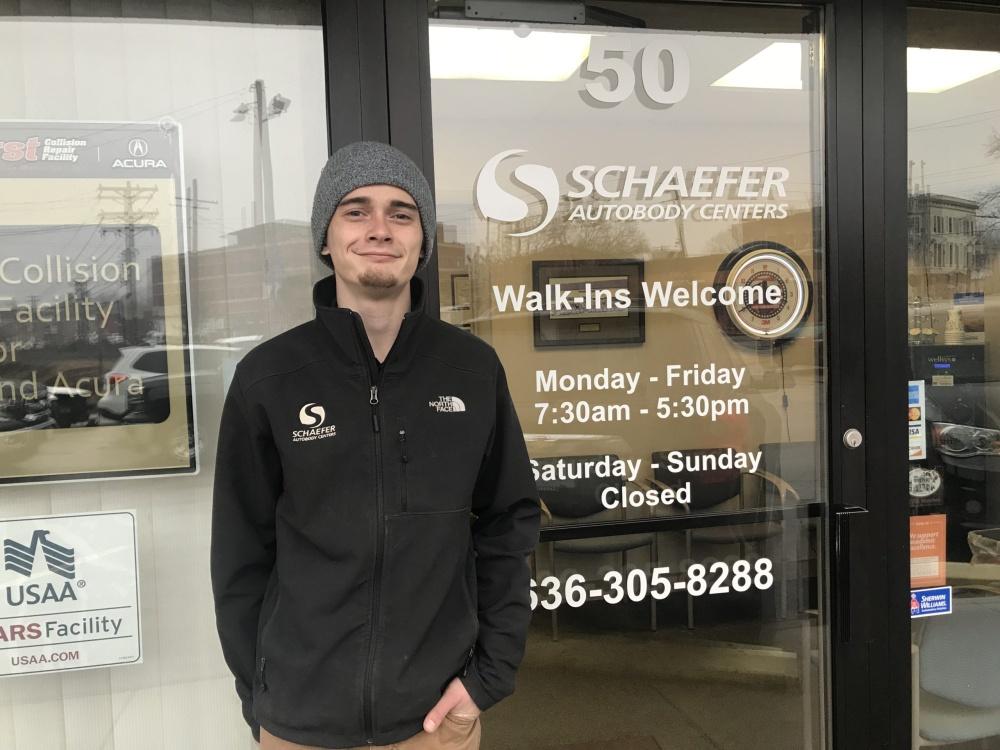 Though Austin Blackley, the parts coordinator at our Webster Groves location, has only been with Schaefer Autobody for a short time, he's made a huge impact on his teammates and leadership.
Austin has an intrinsic drive for perfection and holds his own work to very high standards, always striving to improve everything he does. His team appreciates that he's always thoughtful about his role and duties, and he's constantly looking for ways in which they can be improved. In one instance of this, Austin has studied the parts delivery schedules to identify the best time of day for him to go to lunch or take a break so that he doesn't miss parts deliveries. He also comes in early with the body technicians and paint team because he knows they may need parts from him to do their work before the shop opens for business for the day. These are just two examples of Austin's drive to identify and solve problems for himself and his team. He seeks to identify these kinds of issues and, if he can't solve them himself, he's quick to ask his peers or manager questions in order to solve or address the problem.
Everyone who works with Austin appreciates the enthusiastic attitude he brings to his work. He never shies away from changes in production plans or part orders, even if they might cause extra strain on his workload. His positive attitude carries him through whatever the day brings, and that positivity quickly spreads to anyone he works with. He's helpful, efficient and embodies Schaefer Autobody's core values, creating a better work environment for his coworkers and better experiences for our customers.
Do you have a problem for Austin to solve? Schedule an appointment at our Webster Groves location to get started.