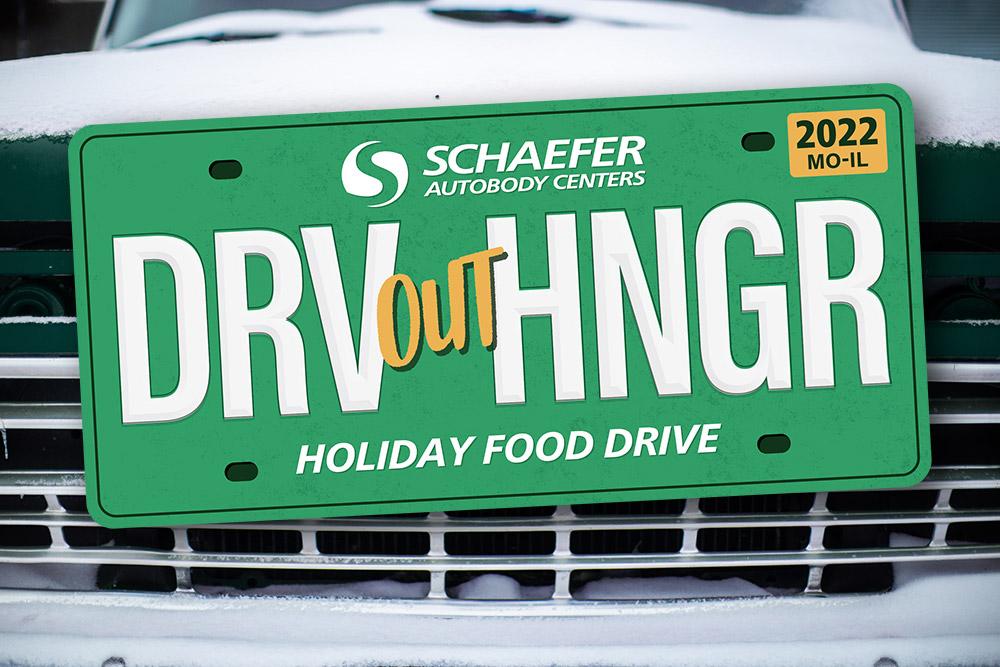 Today, Schaefer Autobody Centers announced their 2022 holiday food drive initiative, Drive Out Hunger. The locally owned auto body leader welcomes the community to join us in collecting non-perishable food and essential non-food items to donate to the St. Louis Area Foodbank and The Food Bank of Central & Northeast Missouri.
With rising food prices, our community needs help collecting much needed items for our neighbors in need. All donations to the food drive will be kept local. To make donating convenient, items can be dropped off at any of Schaefer Autobody Centers' 14 locations during regular business hours, Monday through Friday, 7:30 a.m. – 5:30 p.m.
Per the St. Louis Area Foodbank, the best items to donate include:
Canned Meat and Fish
Mac and Cheese
Instant Mashed Potatoes
Canned Fruits and Veggies
Peanut Butter
Jelly
Juice
Canned Chili
Beans
Canned Soup
Rice and Pasta Products
Cereal and Oatmeal
Powdered Milk
Crackers
Fruit Snacks
Granola Bars
Applesauce
Personal Care Items
Feminine Care Products
Baby Care Products
Household Essentials
Donations that support special diets and/or specific chronic conditions are also accepted and encouraged. Food donations that are high in protein, 100% whole grain, low or reduced sodium and low sugar make the most nutritional impact.
Starting today, November 14, Schaefer Autobody Centers will be accepting donations through December 19, 2022. To find the Schaefer Autobody Centers location nearest you, please visit https://www.schaeferautobody.com/locations/. For questions or additional information, please contact marketing@schaeferautobody.com or visit https://www.schaeferautobody.com/food.
About Schaefer Autobody Centers
Located in the St. Louis Metro Area and mid-Missouri, Schaefer Autobody Centers was founded in 1985 and operates 12 full-service collision repair facilities, two satellite locations and SOS Auto Glass & Calibration. The family-owned-and-operated business holds certifications for 13 auto manufacturers and takes pride in using OEM parts backed by a lifetime guarantee. Learn more about Schaefer Autobody at www.schaeferautobody.com.