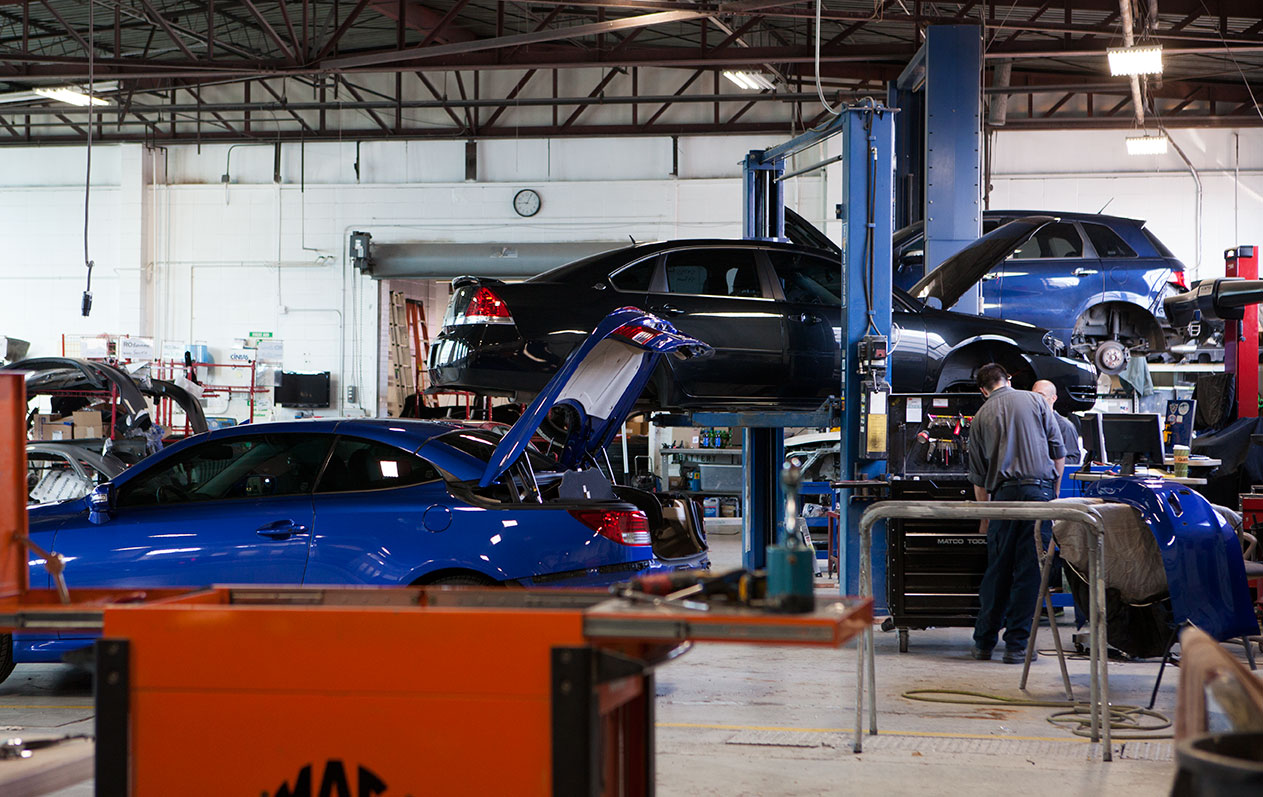 Getting into an accident is stressful enough on its own. You just want to have your own car back and to get on the road like it never happened. For many people, choosing an auto body shop to trust with the repairs on their car can be even more stressful. It's important to know that if you ever find yourself in that situation, you have a say when it comes to what St. Louis auto body shop you choose. You may not know just what to look for when you start looking for the right repair shop, but we can give you a few tips to help you get started.
Ask for Referrals
These days we start our searches for most anything we need on the Internet, looking through pages of customer reviews. While that is definitely helpful, there's no substitute for an enthusiastic referral from someone you know and trust. Ask around to your friends and family or reach out to your social network on Facebook. See if anyone has had an experience with a body shop in St. Louis for their auto body repair that they would recommend.
Don't Feel Pressured
Some insurance companies sometimes can make people feel like they have no choice in where they send their car for repairs, but that is simply not the case. Insurance companies may have preferred shops they work with that they might try to persuade you to use. That doesn't necessarily mean they are a bad choice. Ask for a list of the shops your insurance company recommends and do you own research to determine if any are the kind of shop you would trust.
Look for Important Customer Accreditations
For any good repair shop, receiving a high rating and seal of approval from the Better Business Bureau is a must. The Better Business Bureau awards their seal of approval to businesses that meet the highest standards of quality and honest business practices for consumers.
Check the Certifications
There are a few important certifications from industry organizations that all good auto repair shops should possess. Organizations like I-CAR and ASE are dedicated to improving the quality of auto repairs by offering advanced training and certifications for auto repair professionals. Both of these organizations award certifications to shops that complete training and prove their excellence. I-CAR awards Gold Class designation to shops that complete I-CAR training for all their technicians every year, staying up-to-date on new technologies and procedures. These certificates of completion and participation should be displayed on the walls of the shop for you to easily see. Ours is proudly displayed right by the front desk.
Stop by the Shop
Stopping by the auto body repair shop you are thinking of working with beforehand is a good step. The experience you have will probably be a pretty good indicator of the experience you would have as a customer. Take a look around to see if the shop is busy and well-maintained. A clean shop with well cared for equipment and a professional, knowledgeable staff is a very good sign. Any member of the Schaefer team is always happy to show you around the shop and talk you through the process of having your car repaired with us.
Ask About Updates
Having your car in the shop for a long period of time is really inconvenient. Any good auto repair shop should have a system to stay in contact with you throughout the process to let you know the status of your car's repairs so you know when you can expect to be back on the road.
Do They Offer a Warranty?
It's important that any auto repair shop you choose provides a guarantee or warranty on their repairs. This shows that they are confident in the work that they do and are committed to making sure you receive the best service. We provide a lifetime guarantee on all repairs for as long as you own your vehicle, so even after your repairs are done you can feel confident that those repairs will last.
If you follow these simple tips, you should have a good experience looking for an auto body shop for your car.
Here are a few places you can go to do a little more research on your own.
Schedule a repair or estimate with Schaefer Autobody Centers today.