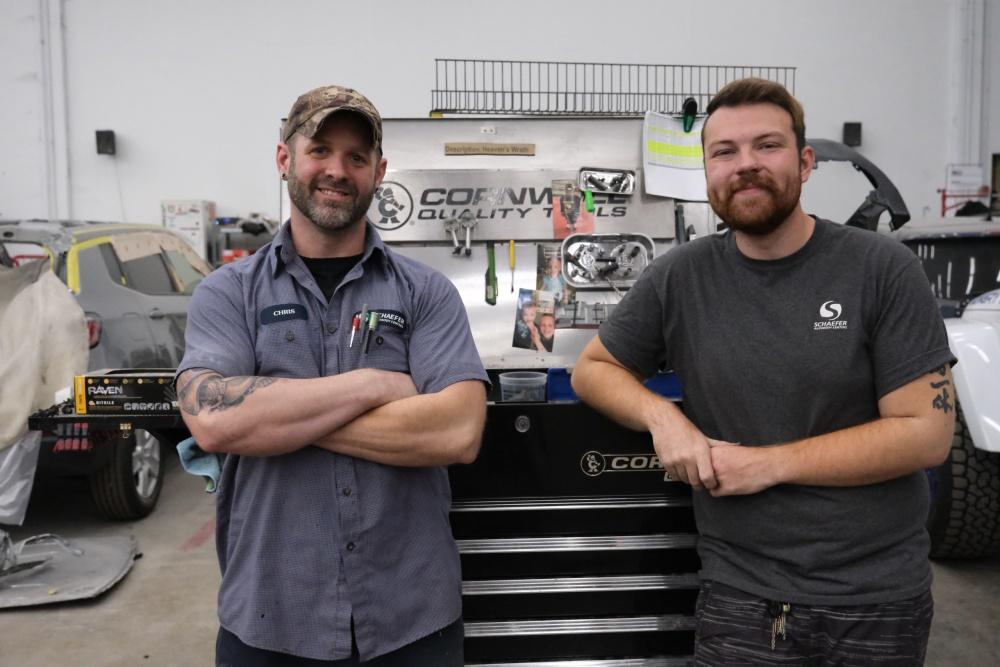 You don't have to be an automotive expert to take advantage of careers in auto body repair. Start with us as an apprentice. Jobs in collision repair are booming! There are also needs for positions in customer relations, human resources, accounting, training, parts procurement, sales and marketing, digital marketing, towing, auto glass, calibration, management and service writers who assess damage.
Of course, there are several jobs in collision repair. It isn't just auto body repair technicians fixing cars. In addition to repair technicians there are auto body painters, electric vehicle technicians, mechanics, auto glass technicians and calibration systems technicians. You can learn these skills and also earn a degree with trade schools. A trade school is more cost effective than a university and offers accelerated programs. Likewise, Schaefer Autobody Centers partners with local trade schools like Ranken, Lewis and Clark, South County Tech and North County Tech.
Industry-Leading Apprenticeship Program
No school? No problem. Schaefer Autobody Centers offers apprenticeships for those interested in becoming a part of the collision repair process; auto body technicians, auto body paint technicians, auto glass technicians and service writers. Begin a rewarding career coupled with excellent flexibility, access to the latest technology and a job where you are in control of your earnings.
Throughout the training program, apprentices receive mentorship from a seasoned pro. Every apprentice is paired with a journeyman who equally wants you to succeed. As you progress through the Apprenticeship Program, the journeyman will review your work and provide feedback. When you succeed, we all succeed.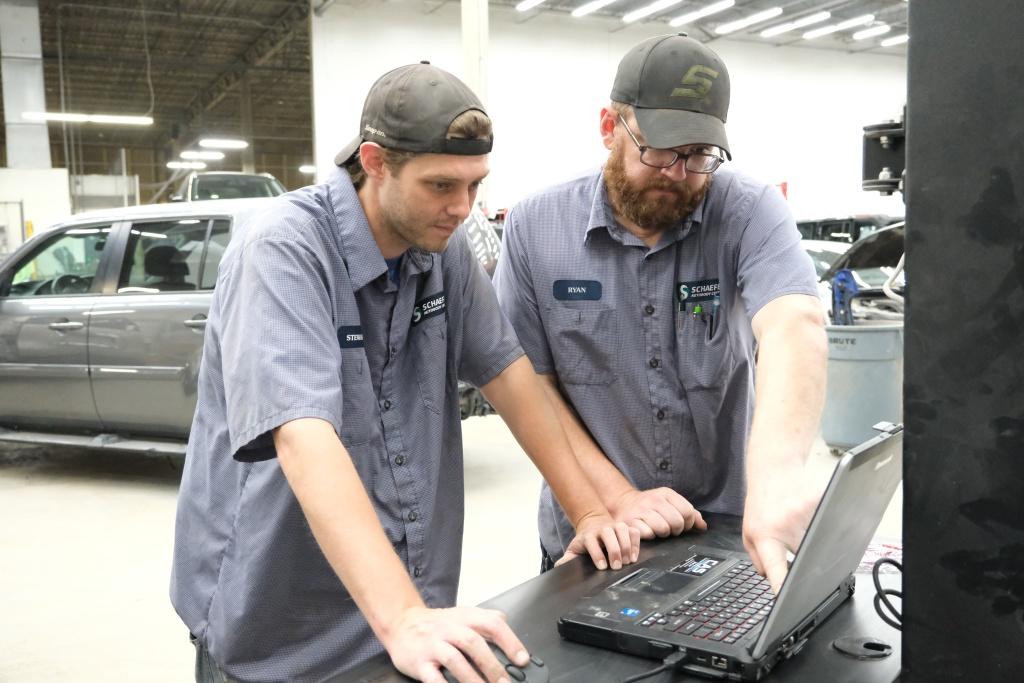 Working in an auto body shop isn't what it used to be. Not only are manual skills required but technical skills for equipment and programming are needed. Experienced collision repair roles often have the opportunity to earn in excess of $100,000.
Why Choose Schaefer?
In addition to Schaefer Autobody having 14 locations and continuing to grow we maintain a steady work flow for everyone. Check out our website to learn more about Schaefer Autobody Centers, our apprenticeship program, and apply. Details on our glass division can also be found online.
All employees Receive a Top-Notch Benefits Package:
Health, dental and vision insurance
401(k) with company match up to 5% of weekly gross
Vacation
Holidays
Life insurance
Long term disability
Wellness program
Don't just listen to us, here's what our team has to say:
"I like being able to teach apprentices and help them grow. Schaefer Autobody is a great company to work for. They give us a lot of opportunities with many ways to move up."

Jared B., Refinish Technician – Journeyman
"We need more young people in this trade, and this is my opportunity to help out and give back."

Scott K., Auto Body Technician – Journeyman
"Schaefer Autobody has the best learning experience for me as far as the skill level I was on. From what I know, Schaefer Autobody is one of the only ones out there that help people on every level."

Herman A., Auto Body Technician – Apprentice
"I love working with cars and working with my hands, and I feel there is a lot of great opportunities in this industry. Schaefer Autobody treats their people really well and I really appreciate that."

Ian V., Refinish Technician – Apprentice
"This was a big opportunity to advance my career and get better at a trade that few other people I know got into. I enjoy working on cars, it is something I am good at and it's a rewarding experience to help people."

Nathan D., Auto Body Technician – Apprentice
"I like to do different things, I was looking for something different to do and Schaefer Autobody Centers offered me that opportunity."

Marcos C., Auto Body Technician – Apprentice
"I love working at Schaefer Autobody. The culture of the shop and entire company is very
Respectful, enjoyable and informative. I have learned so much about the collision industry, which changes rapidly, which keeps me challenged in my position."

Amy T., Front Desk Receptionist
"I work at Schaefer because I was employed at Sunset Ford and when they closed their body shop they partnered with Schaefer to do their repair work. Schaefer hired me to stay at Sunset as a service writer and this has been such an amazing opportunity for me. From the start, everyone was helpful, friendly and welcoming. I love working for Schaefer."

Jackie D., Service Writer
"I wish I would've found Schaefer Autobody Centers sooner. It's the place that I've always wanted to work."

Laurie F., Human Resources Assistant
"I work here for the people and what the company stands for. I feel the company holds its people to the core of values of honesty and integrity. I enjoy working with my team, they are dedicated, hardworking individuals."

Heather S., General Manager
"I joined the Schaefer family 7 years ago when I moved from California to Illinois. I began my journey at the O'Fallon, IL location and have grown so much in my career thanks to the opportunities Schaefer Autobody has provided me with."

Audrey G., Service Writer
"I started at Schaefer a little bit over 22 years ago. I Have made a career out of my current position. I enjoy the family oriented atmosphere and the relationships I have made with our vendors."

Kirk W., Parts Coordinator
When I was asked why I work for Schaefer, I had to sit back and think about it for a little while because there are so many reasons. I started with Schaefer in 2006 because I was in a dead-end job and put out a few applications. I received a call from Nancy Schaefer within 3 days of submission. I had a few interviews and within a month I was brought on board. From that moment on I felt like was part of the family. I have continued that feeling until this very day. In my 16 and a half years I have learned so much from Steve Schaefer and others within the company that it is hard to put into words. I came from a mechanical background, and I did not really know anything about the body shop industry. Now that I have had many different job titles and positions within the company from my start date, I feel very confident in anything I do. I attribute all that to knowing and being a part of something great; The Schaefer family!"

Erik D., Service Writer