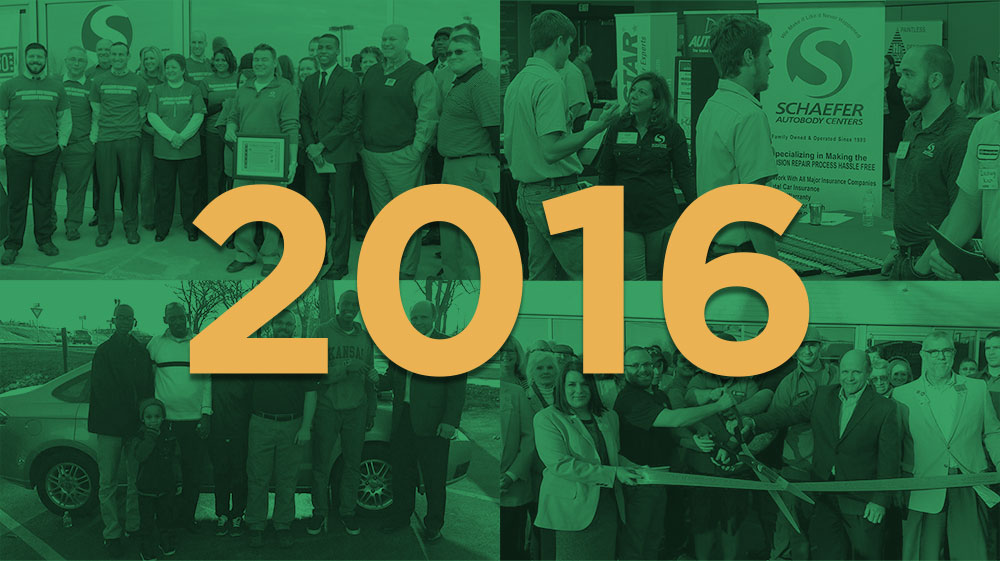 As 2016 comes to a close we're taking a look at some of the highlights of the year for Schaefer as a business and for our wonderful group of dedicated professionals. We continue to grow year after year and it's all due to the extraordinary work our team has been doing.
Expanding West
We started the year off with a bang when our auto body shop in Columbia, Missouri opened in January. This was a huge step for the Schaefer Autobody company as we established our first location outside of the St. Louis metropolitan area. We're really enjoying being a part of the Columbia community. We were even able to donate our time and resources to local Columbia nonprofit Love INC at our grand opening when we donated a refurbished car to a very deserving young man as part of their Extra Mile Program.
Supporting Young Talent
Schaefer Autobody participated in not one but two career fairs this year where we were able to connect with young people preparing to enter the automotive repair industry in our area. We absolutely love being a part of these events and are honored to help advance our industry by encouraging these young people to excel at something we all are passionate about. The Schaefer family is full of talented and passionate individuals who once participated in these career fairs and have gone on to join our team, working hard every day to provide the best service for our customers.
Continuing Education For Our Industry
Our commitment to the advancement of the auto body repair industry was evident throughout the year at the numerous continuing education events for insurance professionals held by Schaefer Autobody. We want to be a trusted partner for the insurance industry, and through the classes we offered we continually demonstrated our acumen and responsibility. We are looking forward to continuing to offer this resource in 2017.
New Technological Advancements For Our Customers
We always strive to give our customers the best experience when getting their car repaired. You can request an estimate, schedule your repair and even check your repair status online. This year we took that one step further by adding a feature to our Get An Estimate request form that allows customers to upload a photo of their damaged vehicle. This helps us gather as much information as we can, as early as we can, to get customers on their way with their repair as fast and as conveniently as possible.
Reaching Out To Those In Need
We don't just work in our communities. We invest in them. Schaefer Autobody participated in several events this year benefitting charitable causes we are passionate about, but one in particular really stands out. In January we were able to partner with the USO, Traveler's Insurance, and Enterprise to donate a car to a young Marine who had recently lost his vehicle in an accident. Schaefer Autobody jumped at the chance to be a part of giving back to someone who gives so much to our country through his service.
All in all, 2016 was another great year for all of us at Schaefer Autobody. We'd like to take this opportunity to thank all of our customers for choosing Schaefer as their trusted St Louis auto body shop. We would also like to thank all of the members of the Schaefer Autobody family for your continued excellence and dedication to what you do every single day. We couldn't do it without you. Have a safe and happy New Year!