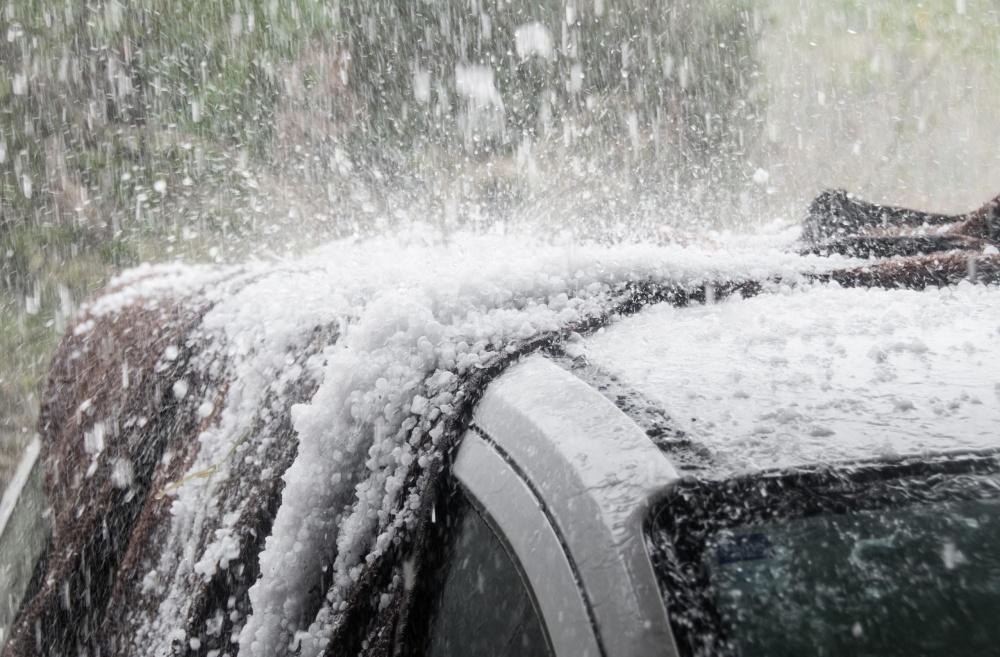 How Do I Know If I Have Hail Damage on My Car?
Weather is oftentimes unpredictable and hail can show up out of nowhere. Frozen precipitation falls and it can come down at varying speeds, shapes, and sizes which in turn can create unique damage on an uncovered vehicle. When the hail is over and you can safely inspect your vehicle it is recommended to a professional body shop to asses the damage. They will look for the following hail damage indications:
Dents or dings in the hood, doors, and sides of the car, or trunk.
Cracked or broken windshield, backglass, windows, or mirrors.
Missing or misaligned mirrors.
If you feel there is any chance you have hail damage, you can call a local repair shop to do an inspection for you. Thinking chips in a windshield are caused by hail is a common misconception. Hail will not chip the glass, it will break it. If you have small chips, they were likely caused by rocks or road debris and had gone unnoticed. Since hail has so many variables, damages could look very different on one car compared to a car one or two subdivisions over.
Due to storm and wind patterns, typically one side of the vehicle is left heavily damaged and the other may be very lightly damaged. The roof is almost always as badly damaged as the heaviest side. Hail damage can range from very minor damage resulting in as little as a few dings to massive damage resulting in panel and glass replacements. A vehicle may even be deemed a total loss due to severity.
Should I Turn in a Claim for Damage to My Car?
It depends on the severity of the hail damage and your deductible amount. Some hail can be repaired with PDR (Paintless Dent Removal) and that can be more cost-effective than conventional body repairs with paint. If the damage is light the repair cost may be near or below your deductible amount. Any reputable repair shop can take a quick look at your vehicle and ballpark if it will be near or above your deductible to help you make the decision.
You don't have to make a claim the day it hails if you are unsure if you should make a claim or not. Just document the day and time so when, or if, you have to make a claim you can provide the date and time details of the storm that damaged your vehicle.
Will a Claim Increase My Premiums?
Coverage for hail and its effects on premiums will vary based on the carrier and state laws. Generally speaking, acts of nature are filed under the comprehensive portion of the policy and wouldn't have a negative impact on your insurance rates. Even though your rates may not raise due to a hail claim, the number of claims made against your policy can still affect your rates if you are calculated to be a higher risk due to the number of claims or frequency of claims. It is always best to speak with your agent or insurance provider for the best answers.
Do I Have Hail Coverage on My Insurance Policy?
If you have comprehensive coverage on your vehicle you should be covered for hail damage. Comprehensive coverage can also be referred to as "other than collision", covering nature caused incidents as well as vandalism and theft. It is always best to discuss any insurance-related questions with your agent and carrier to make sure you have the right coverage for your needs.
How to Avoid Hail Damage
As we mentioned, hail can be unpredictable and come in quick with little warning. Here are some steps to help prevent hail damage:
Turn the alerts on for your weather app to get alerts when bad weather is coming.
Anticipate bad weather? Try to park in a garage or covered parking area. If you are driving, stop under an overpass or pull into a covered gas station.
If you don't have shelter, consider investing in a hail protection blanket. This may not be 100% effective but will reduce the damage. A quick substitute is to use your vehicle's floor mats, which can be especially helpful for protecting the windshield.
How Is Hail Damage Repaired?
As mentioned above, sometimes hail (or other dents) can be repaired using PDR. This method is effective for dents and dings that have not broken the paint on the vehicle, are not positioned on a body line (manufacturer crease), and are not too sharp/deep. PDR requires a special molded tool that's used to massage the metal from the backside forward reshaping the metal, leaving the paint undisturbed. For damage too severe to qualify for PDR, a conventional body repair method is used to reshape the metal, fill, prime, and refinish the damaged area. A reputable repair facility can recommend the best repair method for your damages.