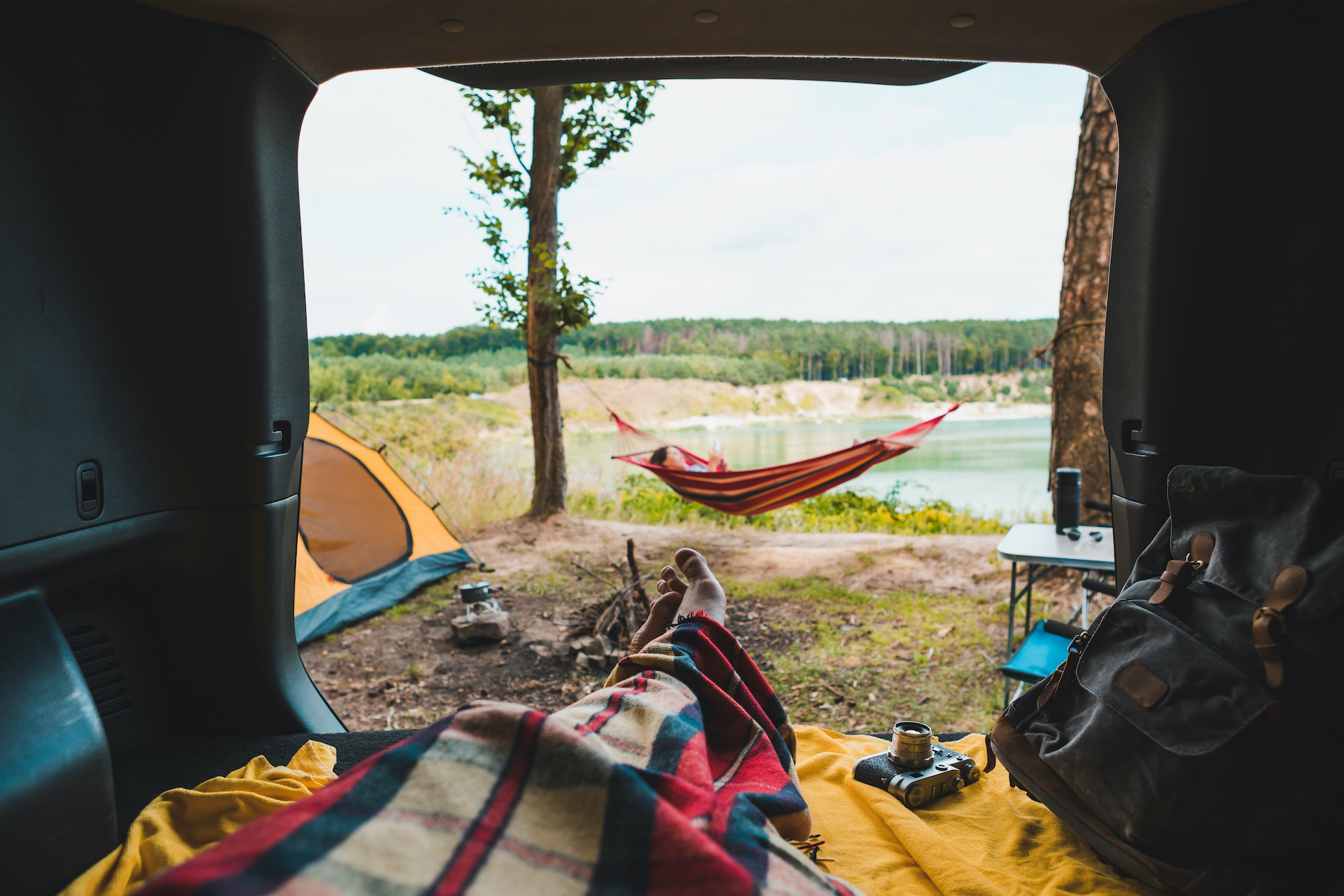 Since June is National Camping Month, we wanted to share some fun tips for an activity everyone can enjoy! Camping is something that can be done just about anywhere and by all ages! Have you ever thought about camping in your car? It can be done! Start your trip with a full tank of gas, you never know, your adventure could take you further than you think! When arriving at a desired destination, ask locals their favorite spots and attractions, that can steer a trip in itself if you don't have a defined agenda. Make sure you have the green light before you go, you can make sure you are legally parked and acquire permits if necessary.
A few free resources
What to Eat?
Time to fill up on your favorites! You could do pre-packaged snacks. If you have a cooler your options are endless. A pro tip: pre-chill the cooler before you pack it. You could do sandwiches, veggies, and dips. If you have a mini portable grill you could have a nice steak dinner! Mini grills come in both charcoal and propane options to meet your preference, they are very convenient! If you will be heating over a grill or stove have a Rubbermaid packed of your cooking essentials. Be sure to have a big stock of water. Don't forget you can refill with visitor centers, gas stations and park facilities. If the area you are in is known to have bears be sure to keep your food in a bear canister or bear bag a safe distance from your car. Consider building a fire where permitted to cook over and use for warmth!
What Else Can I do?
Find a spot where you can hike, walk, or visit nearby attractions. If you have the extra space, bring a folding table and chairs for lounging. You could extend your storage by packing things on the top of the vehicle or with a cargo carrier on your hitch.
Do I Really Sleep in my Car?
Yes! You can sleep in your car. Try to park on flat land and position the vehicle to where your head is above your feet if not on perfectly flat grounds. Most vehicles have seats that all flatten down making this more ideal than sleeping across the seat. If all of the seats go down, you could use an air mattress or pad to sleep on. Don't forget your pillow! If it will be cold at night be sure to have an insulated blanket, sleeping bag or proper gear to stay warm. Charge your devices and download a movie before you leave for your trip, enjoy entertainment while car camping!
Crack the windows and sunroof for a little ventilation but still keeping it closed enough to prevent wildlife from entering the vehicle. You can use a roll of mesh to put over the openings to keep the bugs out. If you have a concern about things getting damp, use Damprid to collect the moisture.
Make sure you turn your interior lights off so you do not drain the battery while doors or liftgate/trunk are open. Bring jumper cables or a jump box just in case! While on the topic of charging, make sure you have a portable charger or anything you may need to keep your electronics alive, solar panel chargers are available too! Hanging lamps are a great option to use inside the car to preserve the vehicles energy, hang them from the handles or clothing hooks.
If sun wakes you up, consider eye masks or hanging a sheet over bungee cords to block the incoming light and offer privacy.
Keep it Clean!
Bring a toiletry kit with your essentials, sanitizing wipes, baby wipes and dry shampoo are great if you won't have access to showers. Light weight, quick dry fabrics are the best material for camping, if you need to wash in a sink it is thin enough to do quickly with soap and water and also dries quickly, this will help prevent over packing. This is where the bungee cords come in handy again, place your clothes on the cord line to dry.
This goes for most things in life, you get what you pay for. We recommend you do your research for the gear you need. Often times when you purchase the most inexpensive it doesn't last long, which could ultimately lead to spending more on replacements than the better quality, higher priced item from the start. Know what items you can skimp on and which ones to make the larger investment on. Enjoy the outdoors in a new way and don't forget the first aid kit!