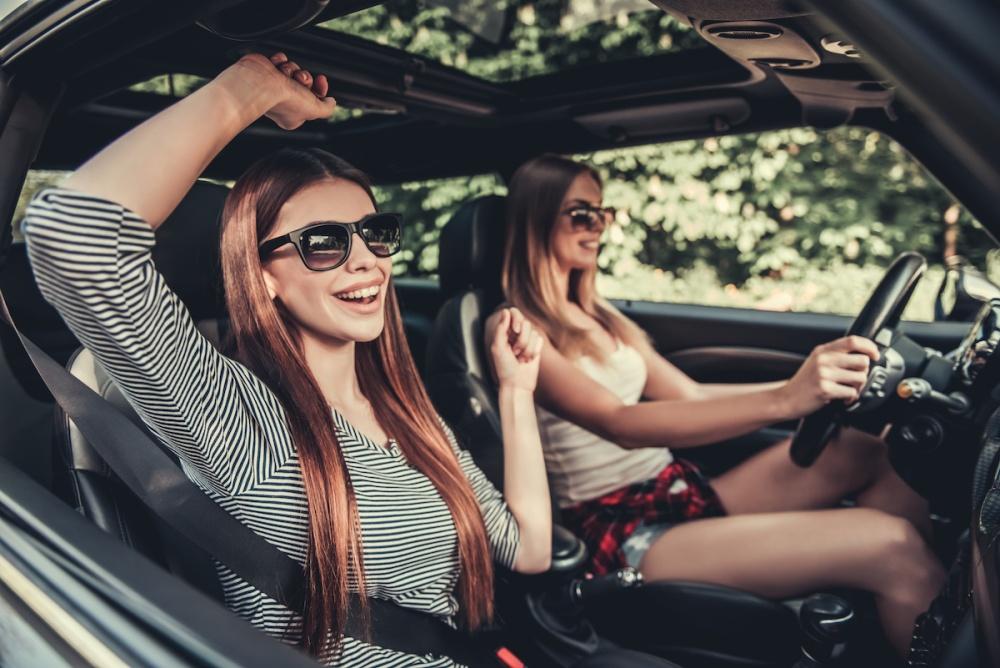 Are there any drivers that don't enjoy singing songs in the car from time to time? It's something almost all of us indulge in from time to time—some more so than others. And why not? Your car is the perfect spot to enjoy your favorite tunes or practice your karaoke jams. The acoustics are second only, perhaps, to your shower. And, what's more, studies have shown that singing in the car can have a number of positive effects on your physical and mental health.
Studies have shown that, among other things, listening to music and singing in the car can increase antibodies that improve your immunity, help alleviate stress and depression, increase dopamine oxytocin (a hormone that's released in the brain when we feel loved, relaxed, and stable) levels in the brain, and more. Don't just lip sync, either: studies say that the act of belting along to your favorite tunes involves taking deep breaths that relax your diaphragm, releasing tension in your body.
So what makes a good song for singing in the car? Obviously, sing whatever songs you like, whether you know all the words or you're making them up on the go.
"Thunder Road" by Bruce Springsteen
Clearly, songs about roads were made for singing on the road. This classic from The Boss is no exception.
---
"Bohemian Rhapsody" by Queen
A classic, whether you do the full Wayne's World routine or not.
---
"Take me Home, Country Roads" by John Denver
Another "road" song. If you've been to a St. Louis Blues game or two, you're probably familiar with this classic.
---
"Don't Stop Believin'" by Journey
Whether it's a karaoke bar or a karaoke car, classics are classics for a reason. Have you ever met a person who didn't enjoy singing along to Don't Stop Believin' at full volume? We didn't think so.
---
"Don't Go Breaking My Heart" by Elton John and Kiki Dee
This list wouldn't be complete without a duet, and this one is a favorite.
---
"Let it Go" from Frozen
We had to include one for the kids, too. Though, even if you don't have kids, it's likely you still know most of the words to this songs—whether you'd like to or not.
---
"Girls Just Want to Have Fun" by Cyndi Lauper
Perfect for driving with a car full of your girls, or just by yourself!
---
"Love is a Battlefield" by Pat Benatar
Another classic for singing with the girls, or boys, or whomever!
---
"Total Eclipse of the Heart" by Bonnie Tyler
Slow things down with this timeless ballad. We're not crying… you're crying!
---
"Mamma Mia" by ABBA
We were tempted to pick Dancing Queen instead, but we wouldn't want you to get too carried away with trying out fancy footwork while your feet should be minding the pedals.
---
Obviously, this isn't an exhaustive list of songs you can sing in your car, but they are a few of our personal favorites. No matter what you're singing, remember not to get too wrapped up in your singing that you forget to remember essential safe driving practices. You don't want to get so wrapped up in your karaoke that you have to take a trip to your local auto body shop. When it comes to singing in the car, adhering to safety will always trump your singing finesse in importance.