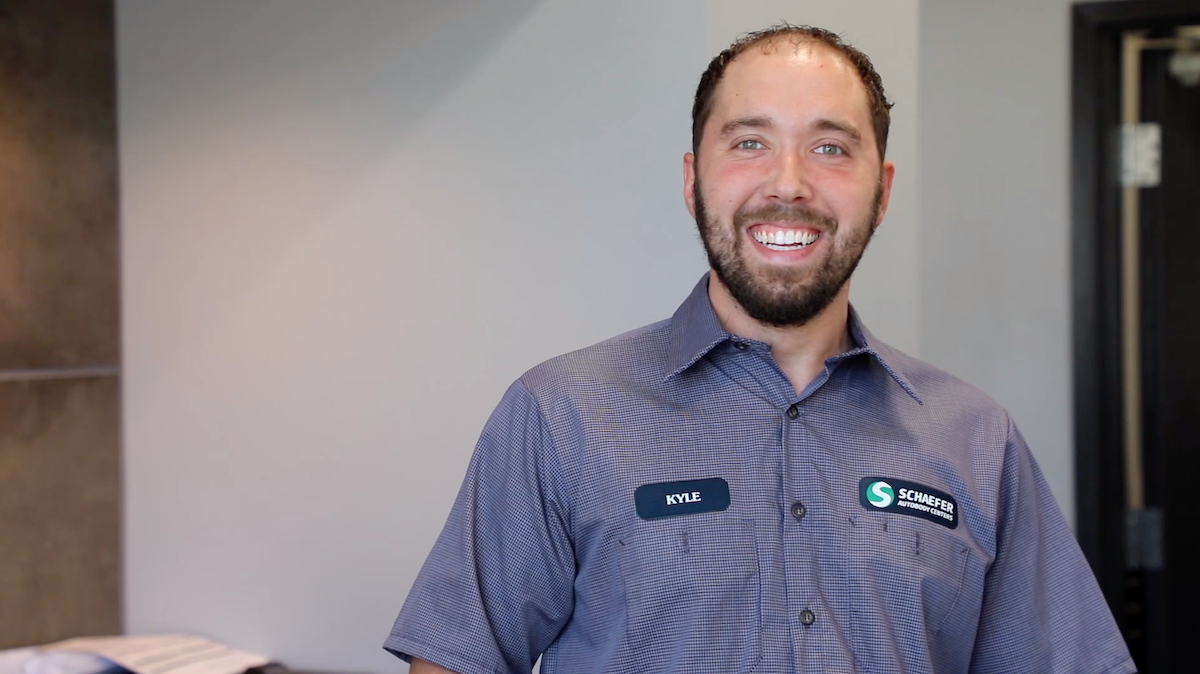 Auto collision technician Kyle Neely celebrates his tenth year with Schaefer Autobody this month. In those ten years, Kyle has grown to be an invaluable member of the team who serves as an inspiration to not only his peers in our Crestwood shop, but also his more than 200 thousand followers on social media.
As a technician, Kyle mainly works in body and structural repairs, but he can often be found helping his coworkers out in a number of other departments because teamwork is so integral to the repair process at Schaefer. Kyle values being an informative asset to the team, especially in the field of steel and aluminum repair, so he strives to spend time researching the industry and staying up-to-date on procedures and new techniques. His body of knowledge and willingness to help his teammates makes him the go-to guy for answers to any question. He truly believes in Schaefer's mission to follow OEM procedures and "make it like it never happened," fixing cars as he or any Schaefer employee would expect their own car to be fixed, if not better.
Outside (and, frequently, inside) of the work he does at Schaefer Autobody, Kyle has a few hobby cars he works on, but his real hobby has been growing his social media brand, @BlueCollarKyle, where he shares informative videos, vlogs and before-and-after photos of his repair work on Facebook, Instagram, Snapchat and YouTube to thousands of followers. Kyle's social media serves to document the work he does from his perspective, so followers can see the level of effort and detail that Kyle, or any Schaefer Autobody technician, puts into every job. His goal is to inform others of the work that he does, but more importantly, he hopes to help inspire and motivate younger people to join the industry, and it seems to be working. Kyle constantly receives comments and messages on his social media from younger people who are inspired by watching Kyle work and considering pursuing work as a technician themselves. He also represents Schaefer Autobody at career fairs at local technical schools to help recruit technicians to the Schaefer team after they graduate from collision programs.
Whether you're working with Kyle or watching him work through his social media, it's clear he's an inspiration to us all, and we're glad to have him on the team.
Want to see Kyle in action? Follow him on social media or schedule a repair at our Crestwood location to get started.