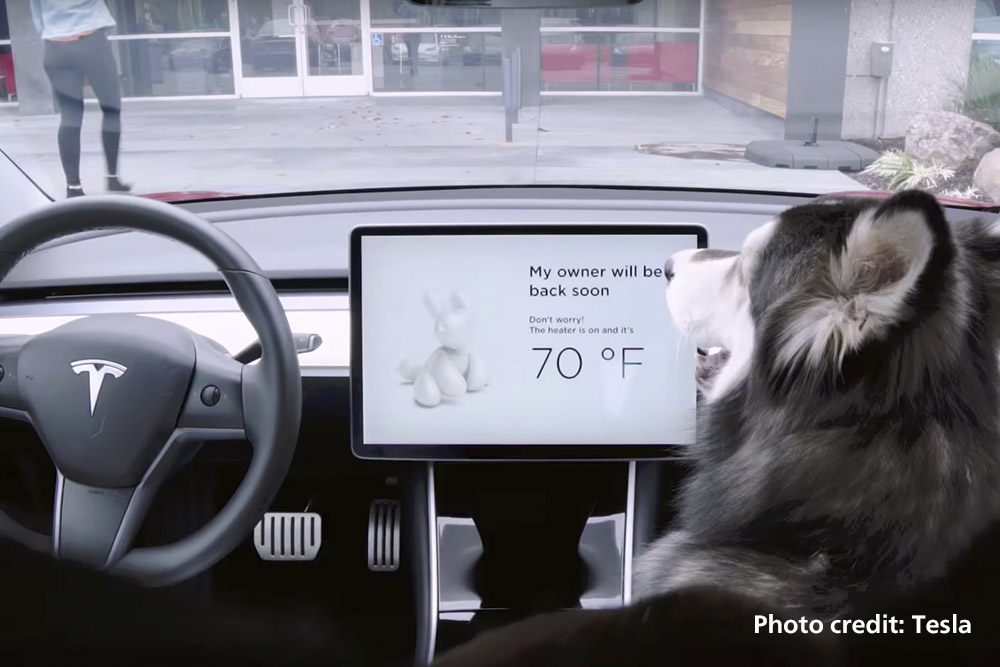 Summer is upon us and we cannot forget about our furry friends. Everyone knows a dog (or people) should never be left in a hot vehicle even with windows cracked.
Automakers catering to pet parents
Electric vehicle maker Tesla introduced "Dog Mode" to keep our furry friends cool. This feature can keep groceries cool, as well, but it ultimately allows the vehicle owner to leave the vehicle while maintaining comfortable temperatures inside the vehicle even with extreme exterior temperatures. When using Tesla's "Dog Mode" you can check and change the temperature from the Tesla App on your phone. The large touchscreen in the Tesla will display the interior temperature and a message to ensure passerby's know the animal is safe inside the car.
Rivian also offers a Pet Comfort Setting similar to Tesla's. This popular feature is making it's way to other automakers, so be on the lookout for more pet options in other OEM brands in the near future.
While Ford and Lincoln don't currently have a pet mode, they do have the exterior lock function using a keypad. Most vehicles are smart enough to not allow you to lock your vehicle from the exterior while it is running or while your keys are in the vehicle. If the car does allow it, most have an auto shut off scheduled to power off the engine after a certain amount of time.
With Ford and Lincoln, you can leave your pet in the car with the vehicle running, keys in the car or not, the vehicle will remain running until you return… or run out of gas. The keyless entry pad is an attractive feature for pet owners. We recommend you have signs posted so people know the occupants are safe as they approach the car to check on the pets inside.
Extreme temperatures aren't the only concern for our furry companions. Here are some helpful tips to keep your pets safe and healthy!
If you see an animal (or person) in a car during extreme weather, call 911.
An animal should be in a restraint or seatbelt just like humans. They are at the same risk of being injured or ejected from a vehicle during an accident.
Dogs get car sick, too! Your vet can prescribe medications to help with motion sickness.
What to keep in the car for your pets:

Water with a travel water bowl

Life vest if they will be swimming

Waterproof, washable blanket/seat cover

Snacks! (Who doesn't love snacks?)

When the Midwest heatwave arrives be sure to exercise early morning for the coolest temperatures of the day.
Be sure to protect your pets' paws, too. According to AKC.org, with temperatures 85° and higher, pavement remains too hot for pets and can harm their paws.
Don't forget summer celebrations often involve fireworks. Be sure your pet is safe and secure as the fear can cause them to run away.
If you live in the Midwest you are all too familiar with our high temperatures paired with high humidity, it can make for miserable heat. If you hit the parks with trails or lakes, keep cool with your furry friend the next few months. Happy Summer!