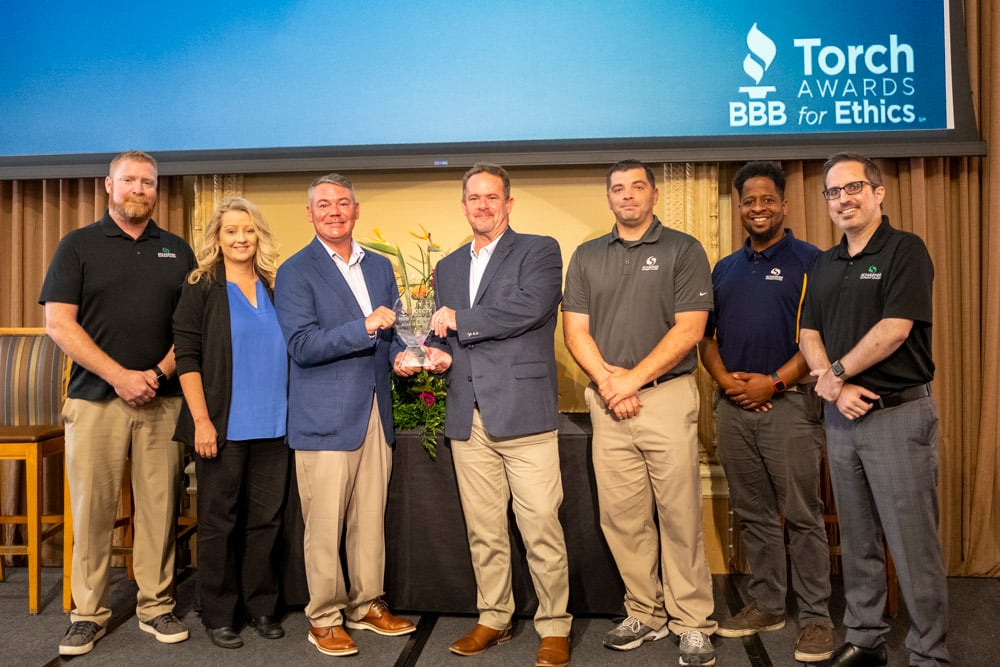 Schaefer Autobody Centers has earned the prestigious "2023 TORCH Award for Ethics" from the Better Business Bureau (BBB) of Eastern & Southwest Missouri & Southern Illinois in two Missouri regions: St. Louis and Columbia. The St. Louis-based collision repairer, who was acquired by Quality Collision Group in April 2023, operates in 14 locations across Missouri and Southern Illinois.
Schaefer Autobody Centers first participated in a luncheon on Tuesday, October 3, at the Missouri Athletic Club in Downtown St. Louis. During this event, Operations Manager Aaron Burchett accepted the award on behalf of Schaefer Autobody Centers. Notably, Schaefer Autobody was one of just nine companies from the St. Louis area to receive this accolade.
"These organizations are role models for other businesses and nonprofits in the community. They have truly committed themselves to BBB's mission to advance marketplace trust, and are making a positive impact on their customers and communities."

Michelle Corey, BBB St. Louis President and CEO
Additionally, on October 10, the leadership team of Schaefer Autobody Centers convened in Columbia, MO, for an additional "2023 TORCH Award for Ethics," marking a double honor in a single year. The company, who recently celebrated its 38th year in business, routinely gives back to the community by supporting St. Louis Children's Hospital and holding regular donation events.
Julie Hemann, Business Development Director of Schaefer Autobody Centers, expressed her enthusiasm, remarking, "To receive this honor twice in one year is quite remarkable. Winning the '2023 TORCH Award for Ethics' speaks volumes to the positive impact Schaefer Autobody Centers' team members consistently deliver to customers, suppliers and one another."
According to the Better Business Bureau, the TORCH Awards recognize organizations that exemplify high ethics. Winners are selected based on a comprehensive evaluation, including customer reviews, company culture and community impact, among other criteria. The BBB succinctly describes this recognition as putting "integrity into action," a principle that Schaefer Autobody Centers consistently embodies. The company maintains an exceptional "A+" rating from the respected organization.
Aaron Burchett, Operations Manager at Schaefer Autobody Centers, expressed his gratitude, saying in a video introduction at the luncheon in St. Louis, "(This award) shows we're not only meeting our standards, but we're also able to extend reliability, trust and credibility to the customer base and community in which we serve."
The achievements are not the first of their kind for Schaefer Autobody Centers. The regional auto body leader previously won the TORCH Award for Ethics in St. Louis in 2010 and Columbia in 2017. It's worth noting that while there was no fee for the award application process, Schaefer Autobody Centers has been an active member of the BBB since 2001, holding the esteemed "Accredited" status since 2009.
About Schaefer Autobody Centers
Located in the St. Louis Metro Area and mid-Missouri, Schaefer Autobody Centers was founded in 1985 and operates 12 full-service collision repair facilities, two satellite locations and SOS Auto Glass & Calibration. Part of the Quality Collision Group of OEM-centric collision repair facilities, the company holds certifications for 13 auto manufacturers and takes pride in using OEM parts backed by a lifetime guarantee. Learn more about Schaefer Autobody Centers at www.schaeferautobody.com.