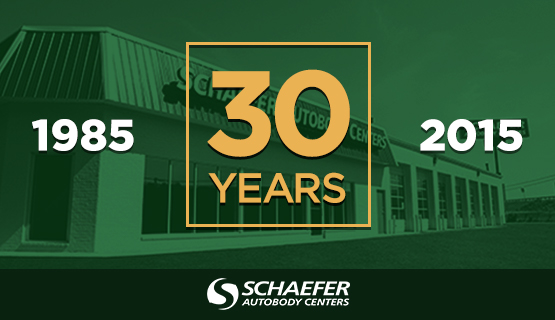 With just a short time left until The New Year, the team at Schaefer is taking this chance to look back on what a great year 2015 has been for us. We've had some great new business opportunities and hit some pretty major milestones this year. Needless to say, Schaefer Autobody has a lot to be thankful for this holiday season.
Big Milestones
One of our proudest moments yet as a business happened earlier this year when Schaefer Autobody Centers celebrated our 30 year anniversary as a family-owned, St. Louis auto body shop. We were even featured on Channel 5 News!
We got our start in 1985 when Steve Schaefer opened his first shop in Webster Groves. At that time, we were a specialized Corvette repair shop and even did mechanical repair. Along the way we narrowed down our services to specialize in just auto body repair and expand the business even further, adding several more auto body repair locations throughout the St. Louis area. Steve couldn't have imagined where this business would take him back then, and it's so incredible to see how far we've come!
New Locations
Schaefer Autobody Centers continued our expansion this year by adding a couple of new auto body shop locations. In addition to our several repair shops across St. Louis, we've also expanded to the other side of the river by opening a location in O'Fallon, Illinois. We even looked outside the greater St. Louis area for the first time and opened a brand new location in the home of the Mizzou Tigers; Columbia, Missouri. Both of these new shops are delivering the same great service our customers have come to expect from Schaefer Autobody and we couldn't be happier to be able to offer service to customers in these new areas.
New Employees
Our biggest asset is our amazing team of people who come together every day to make this business great. Some of our employees have been with us for over 25 years and their dedication to our business does not go unnoticed. 2015 provided us a great opportunity to expand that team by 16% and help grow our communities by creating 40 new jobs. We really can't say enough about how talented and dedicated our team of auto body repair professionals is, and we thank them from the bottom of our hearts for their continued excellence.
As always, we want to thank our loyal customers for their business. We are proud to be who you count on to make your auto body damage like it never happened. Thank you for choosing us as your St. Louis auto body repair experts. We'd like to wish you all a happy holiday season filled with lots of joy and great memories with your loved ones. See you in 2016!