Making a hospital room feel like a home during the holidays may be unrealistic, but a smile or laughter is still possible with the gift of a toy or activity. Snowflake Village is a donation-driven "toy store" inside St. Louis Children's Hospital seeking new, unwrapped toys. These children and their families, many of whom are up against significant odds, greatly appreciate the gesture no matter the size.
Donate brand-new toys to St. Louis Children's Hospital this holiday season!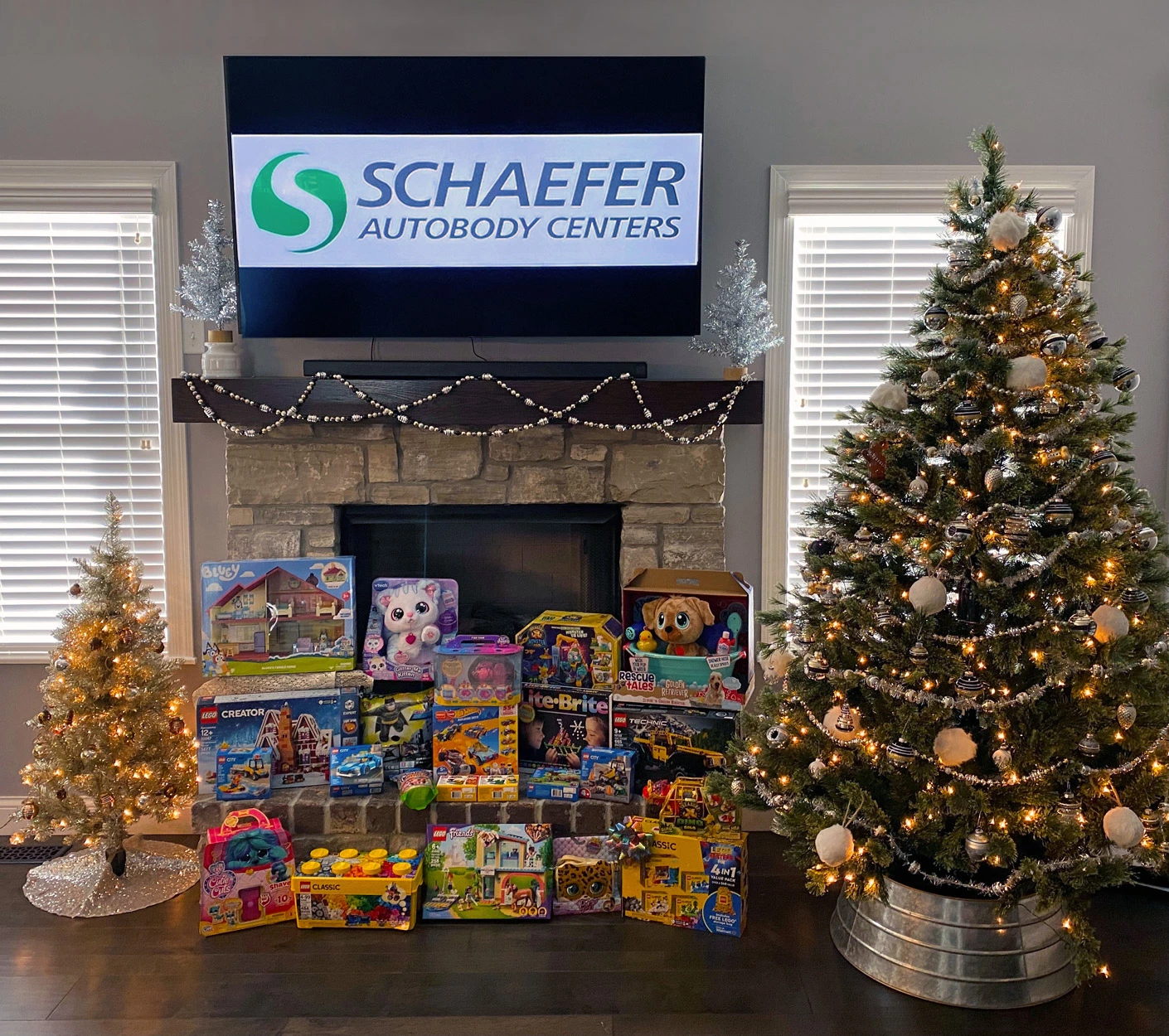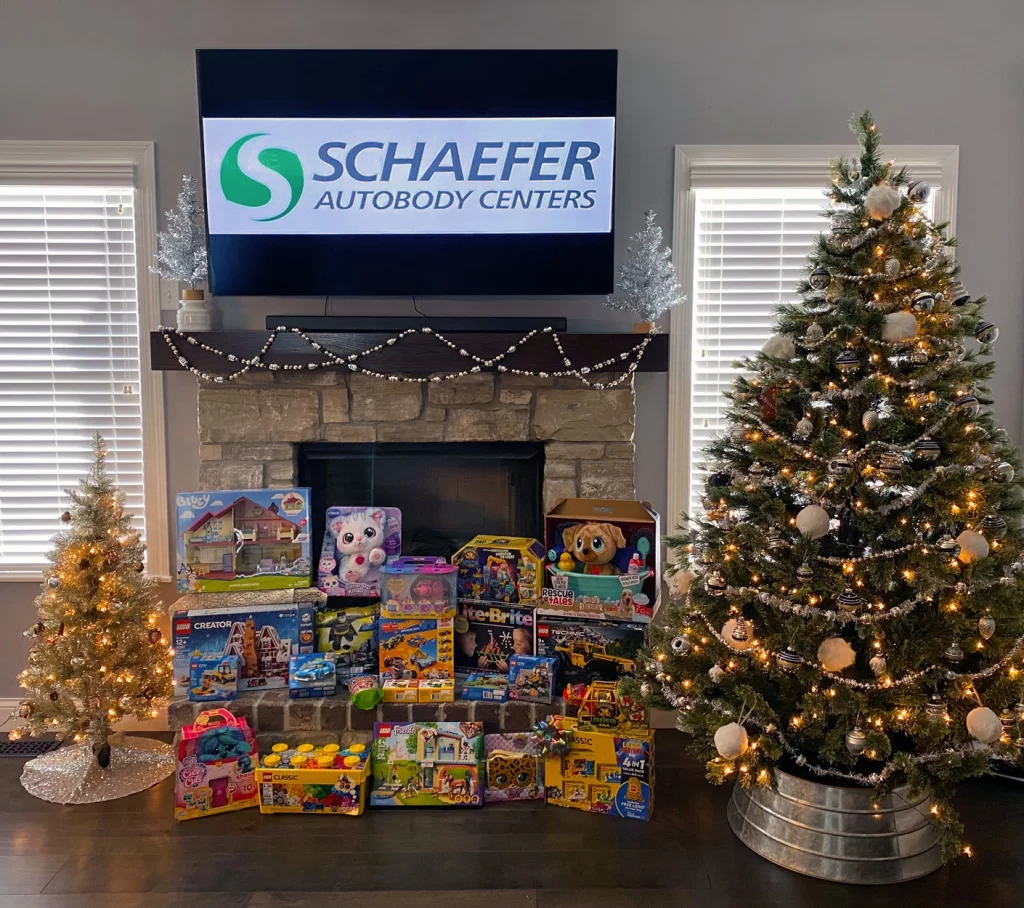 The Reason We Chose St. Louis Children's Hospital
In 2015, our son, David Schaefer, was born with rare and severe medical birth defects which required him to remain in the NICU in St. Louis Children's Hospital. David, unfortunately, lost his battle with the illnesses in early 2016 but he continues to live on in our hearts and memories.
During our time at St. Louis Children's Hospital, we met many other families whose lives had been affected by the illness of their child. Going through this experience was the most difficult time of our lives. However, we are blessed to be in a position to give back to those who helped David and other children like him. This is why we choose to benefit St. Louis Children's Hospital with this toy drive. With your participation and donations, together we can help to improve the lives of these children and their families during the holidays.
—Scott & Sarah Schaefer
How You Can Make a Donation
Drop-off at a Schaefer Autobody location – Drop off new, unwrapped toys at any Schaefer Autobody Centers location through December 15, 2023. We'll deliver the toys to St. Louis Children's Hospital. Go to the bottom of this page to use an interactive map to find the location(s) nearest you.
Make a monetary donation – If you're unable to buy toys or drop them off, monetary donations are also accepted—100% of which will be donated to St. Louis Children's Hospital.
Shop St. Louis Children's Hospital's Amazon.com wish list – Lastly, you may buy items for donation from St. Louis Children's Hospital's Amazon wish list. This curated list of gift ideas has been selected by the hospital's team. All items bought from the wish list will be shipped directly to St. Louis Children's Hospital.
Contact Information
Questions or comments about making a donation? Please reach out directly to St. Louis Children's Hospital at:
Email: slchdonations@bjc.org
Phone: 314-215-7192
Donation Suggestions
Infants
R

attles

Blankets/swaddles

Push toys

Light up/musical toys
Young Children (ages 3–8)
Books (fiction & non-fiction)
Interactive games
Puzzles
Building sets and Legos
Play-Doh kits
Crayons with coloring books
Art and craft kits
Dolls and dollhouse toys
Toy trucks and cars
Pre-teens (ages 9–12)
Books (fiction and non-fiction)
Card games
Board games
Puzzles
Journal sets
Art, jewelry and craft kits
Science kits
Building sets and Legos
Teens
Sports apparel
Art sets
Bluetooth/wireless speakers
Headphones
Comfy wear (sweatpants, leggings, sweatshirts in a variety of sizes)
Table top/yard games
Lego sets
Please note: stuffed animals are not needed. Schaefer Autobody Centers and St. Louis Children's Hospital kindly ask donors to avoid contributing items such as play guns, Nerf guns or other toy weapons, latex balloons, candy, gum or other food, scary or violent action figures or dolls, and used toys or books. Handmade items are also not recommended for donation.
Snowflake Village in the Press
On October 20, 2021, Schaefer Autobody was invited on KSDK's Show Me St. Louis to speak about Snowflake Village at St. Louis Children's Hospital. Below is the video segment with our own Kristen Henry explaining the importance of Snowflake Village to Schaefer Autobody Centers and the impact the toy store has on hospitalized children and their families. You can read more about the segment on KSDK's website.